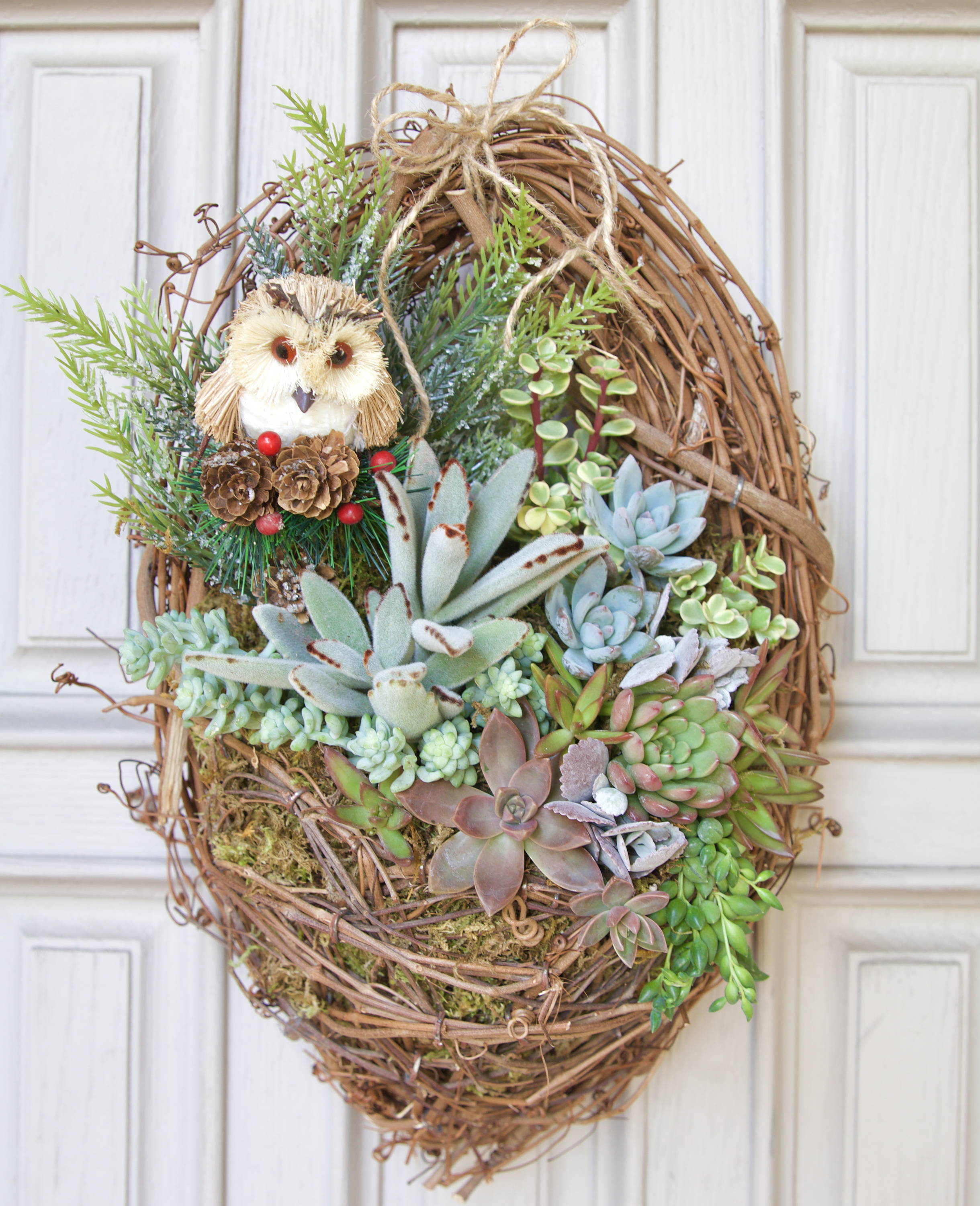 Hey Garden Friends!
For todays project I'll be making a Succulent wreath for my front door.🏡
A few weeks ago I found myself at Michaels craft store and walked by this rustic grapevine wreath and thought it looked sort of like a nest or perch for a bird. Adding the faux branch gave it that woodland look I was going for.🌲🦉
The planting was very easy. There is no soil involved, can you believe it?!! I simply stuffed the pocket with sphagnum moss. Moss is a type of plant that typically form dense green clumps or mats, often in damp or shady locations. You can buy it at garden centers and is used for decor, as a soil-less seed starter, for flower hanging baskets, and other uses.
Because of its extreme absorbency (moss can absorb many times its own weight), it can be used as a substitute for soil. The planted Succulents will root and attach themselves to the moss and live off the water it drinks from it. The key to keeping this wreath alive and happy is to keep the moss moist but not wet. It is a fun and crafty way to use moss with beautiful Succulents.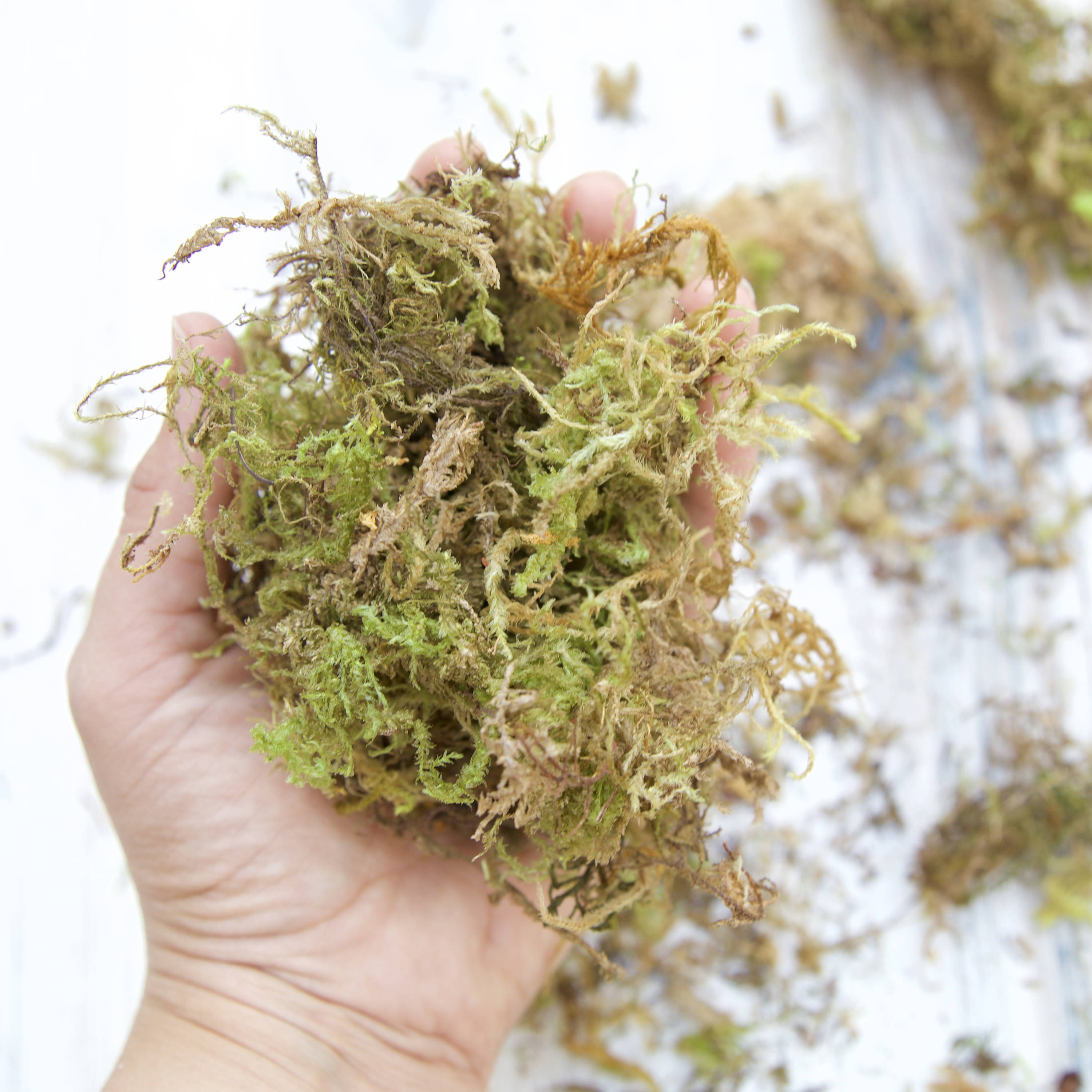 MATERIALS YOU NEED:
1. Grapevine Wreath
2. Sphagnum Moss
3. Succulents
4. Faux decor (optional)
5. Glue gun/Glue sticks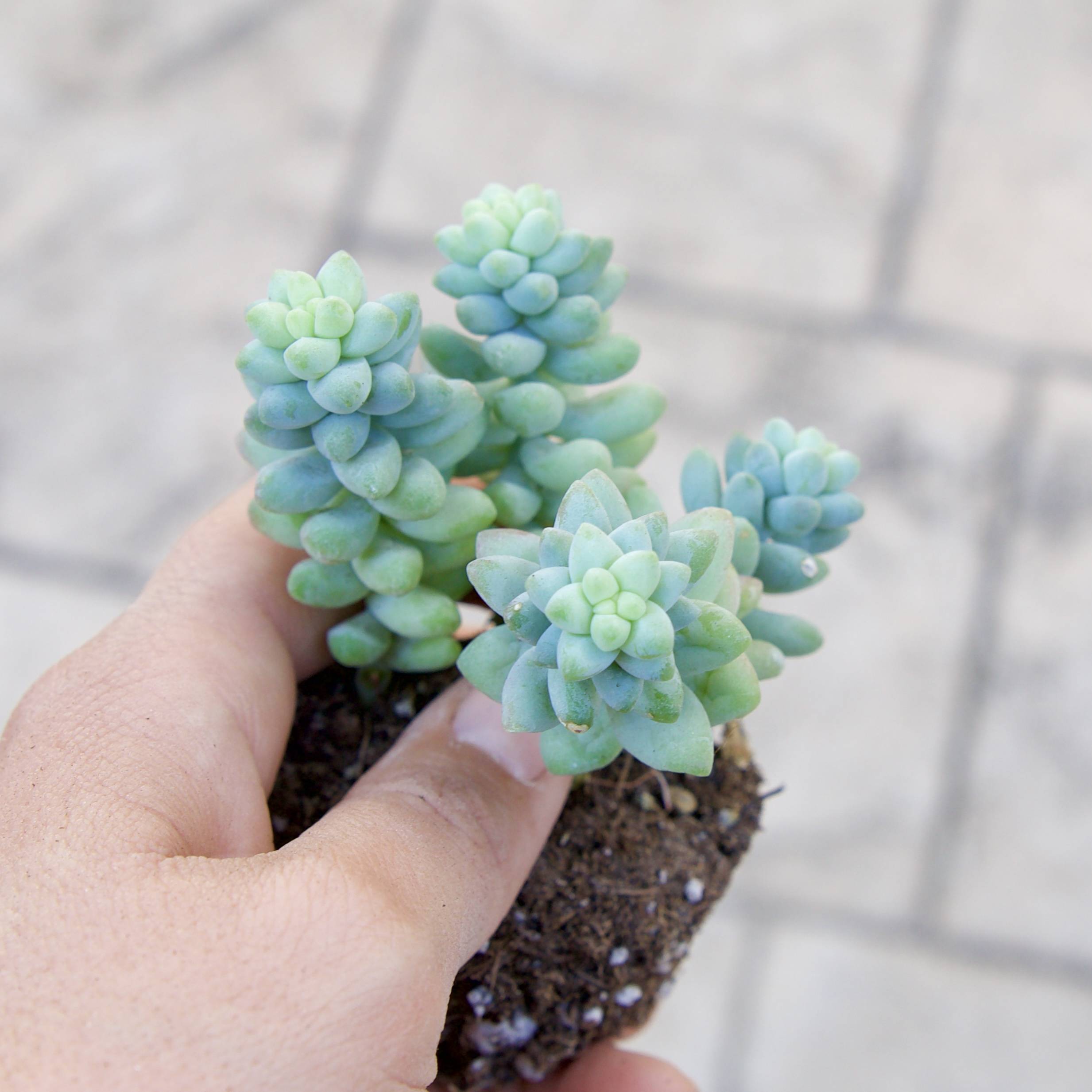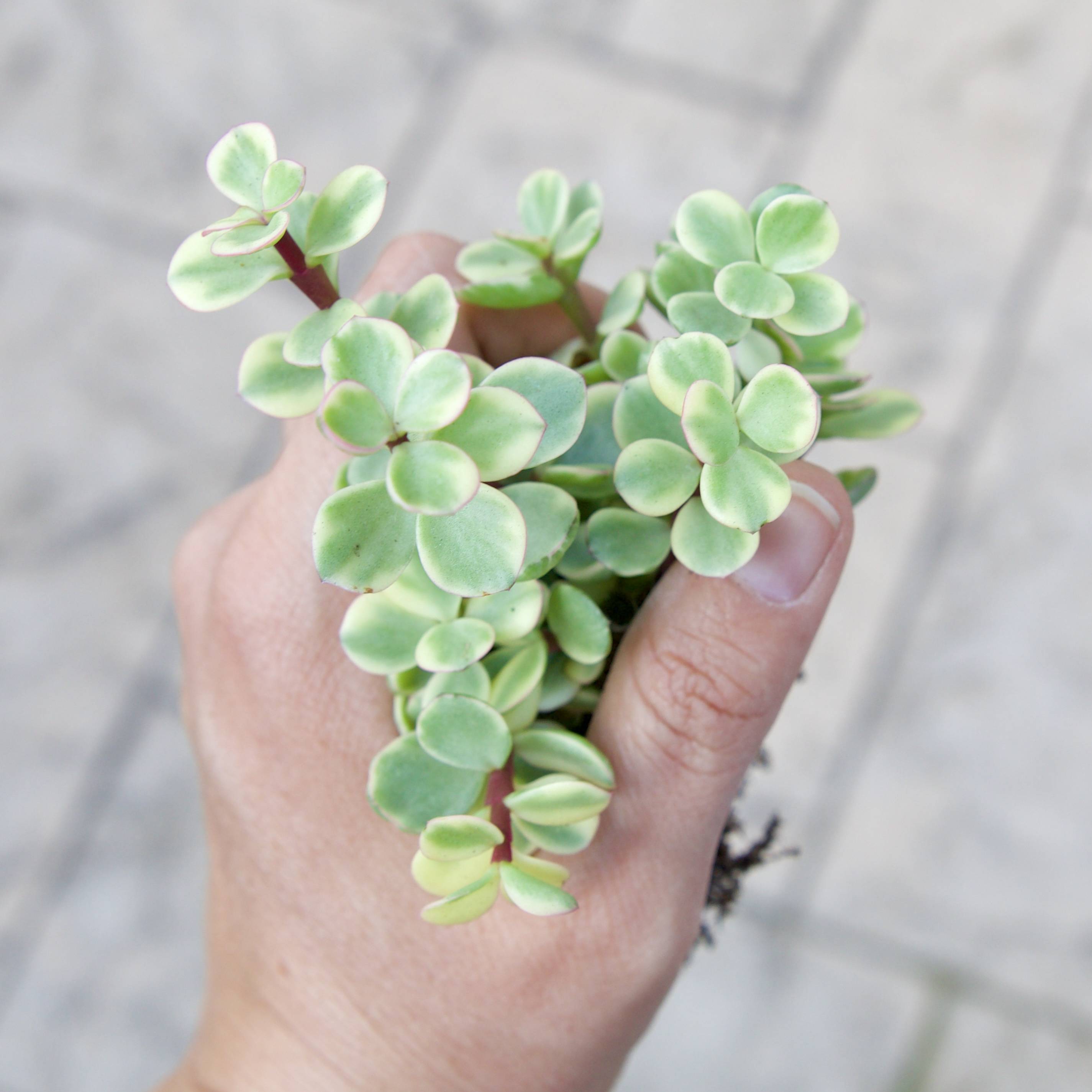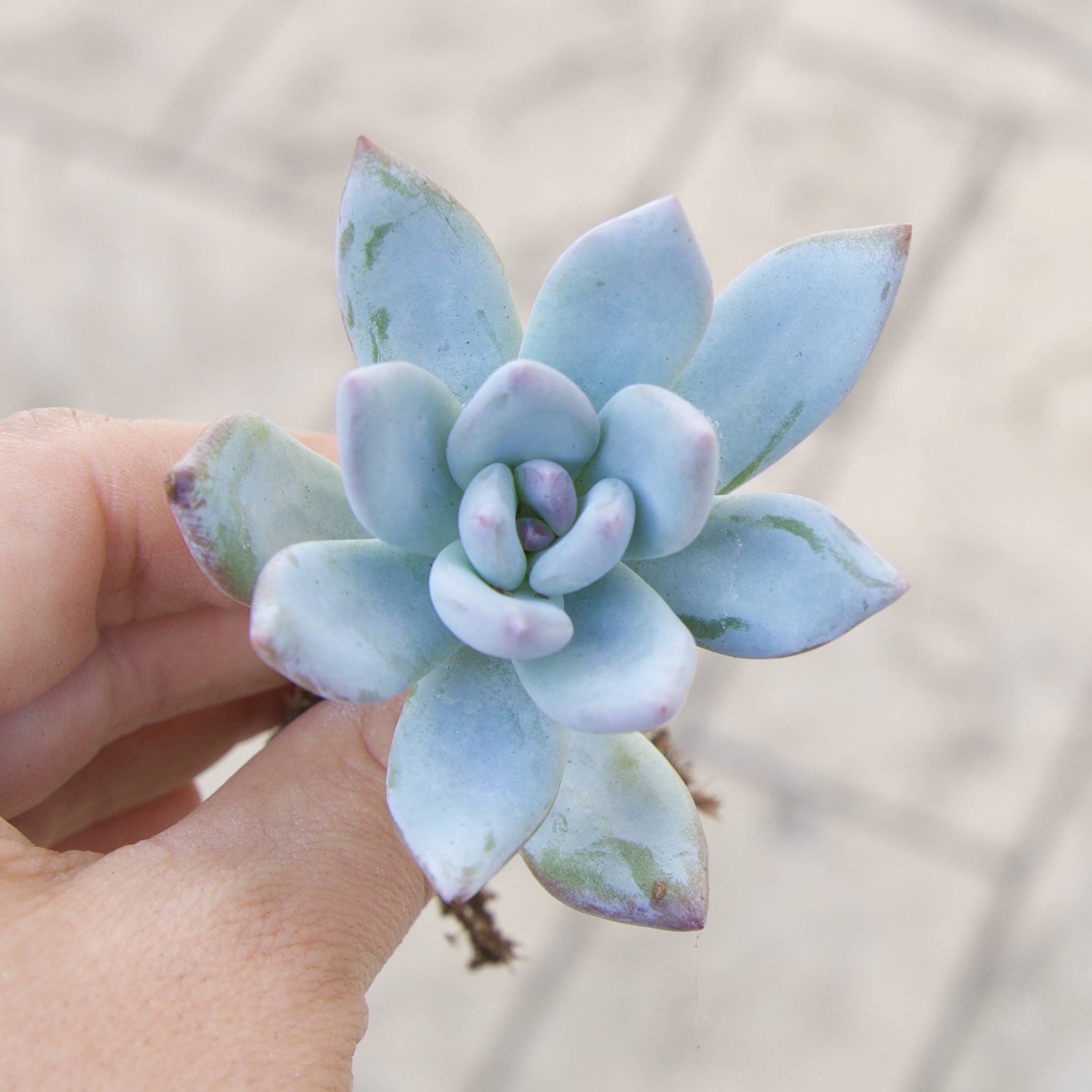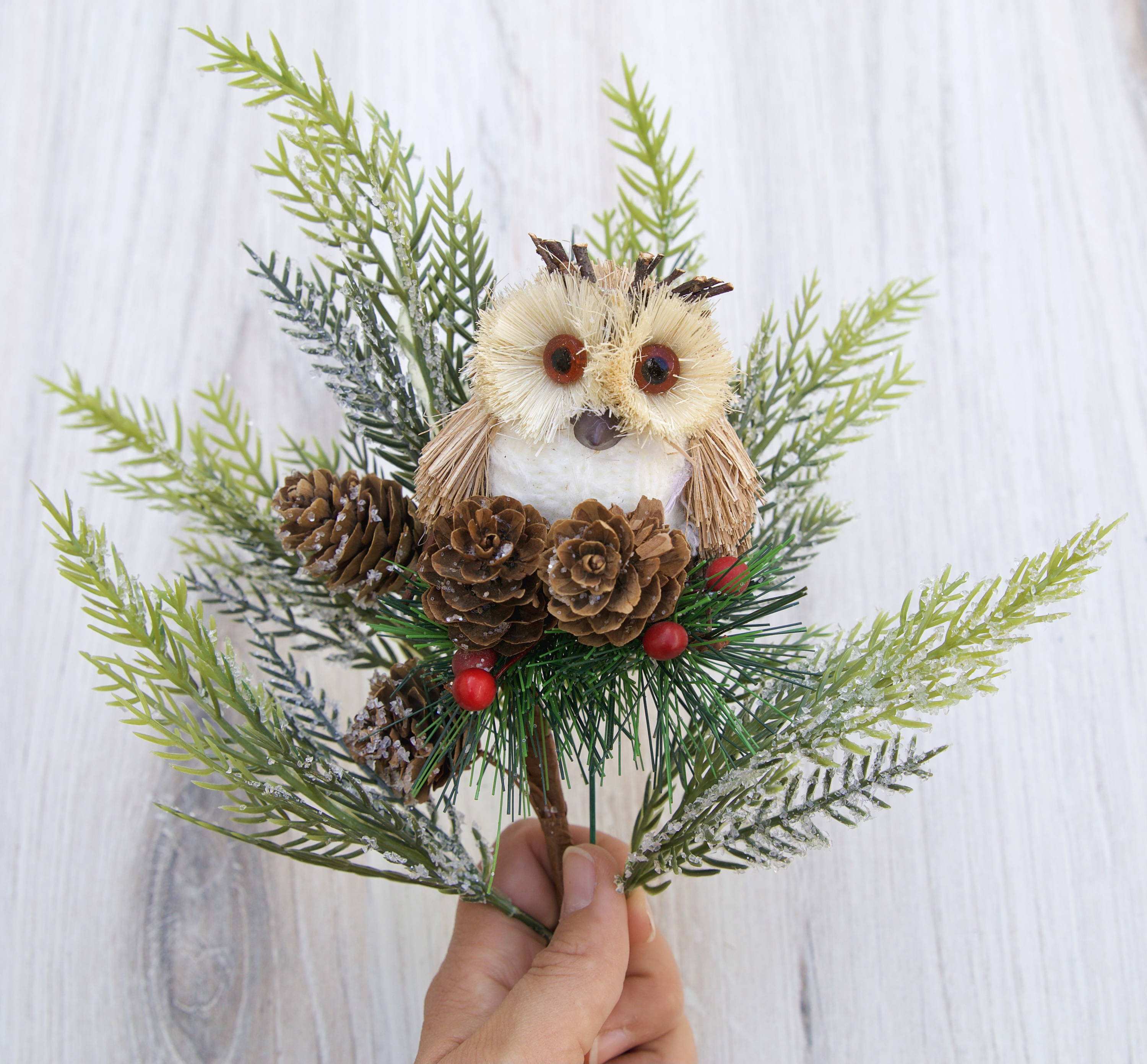 Step 1: I like to start my projects by choosing my Succulents first. Because it is Autumn around my neck of the woods I focused on darker tones like the plum hue on the Graptosedum "California Sunset" the red on Sedum "Firestorm" with frosty blue colors like Kalanchoe "Panda Plant"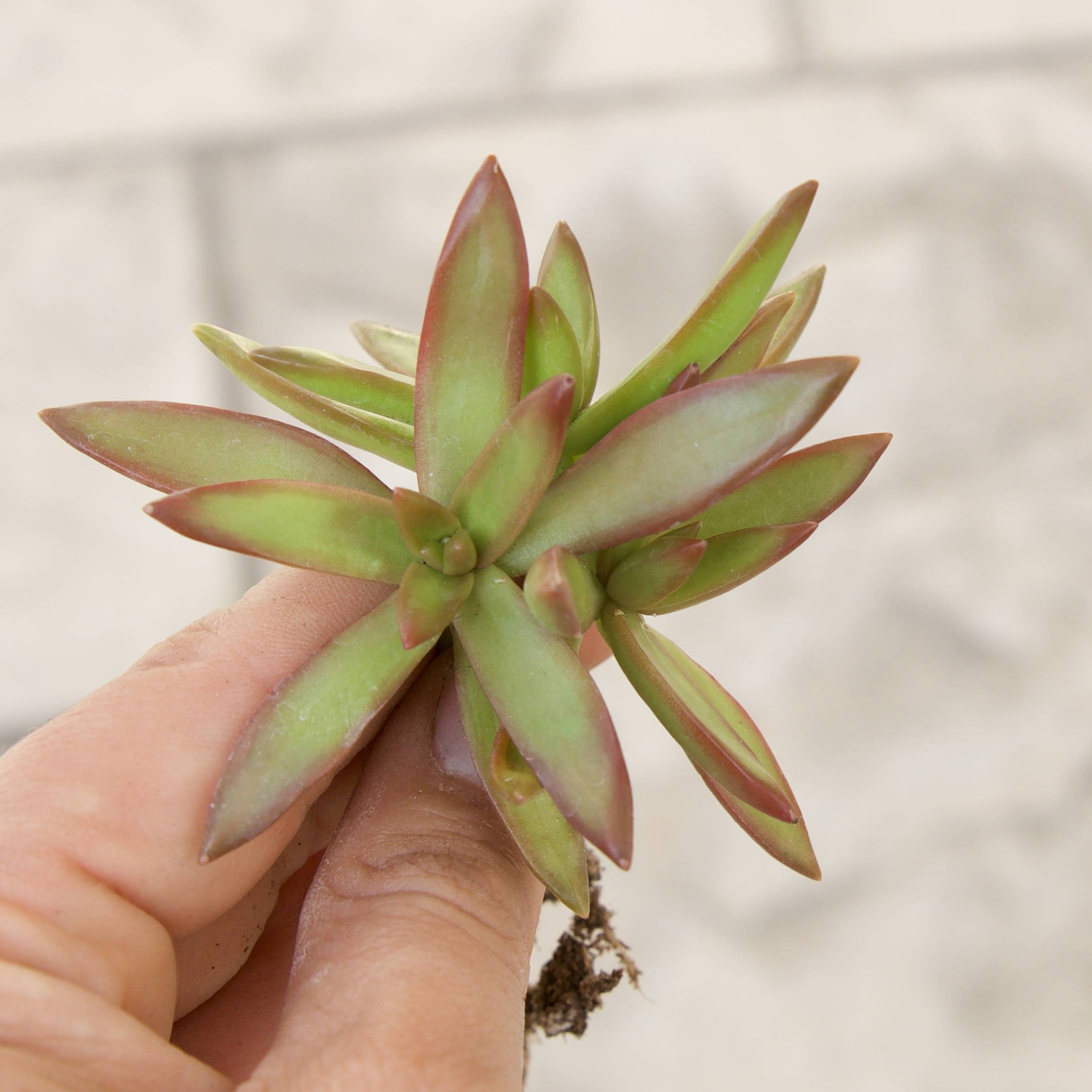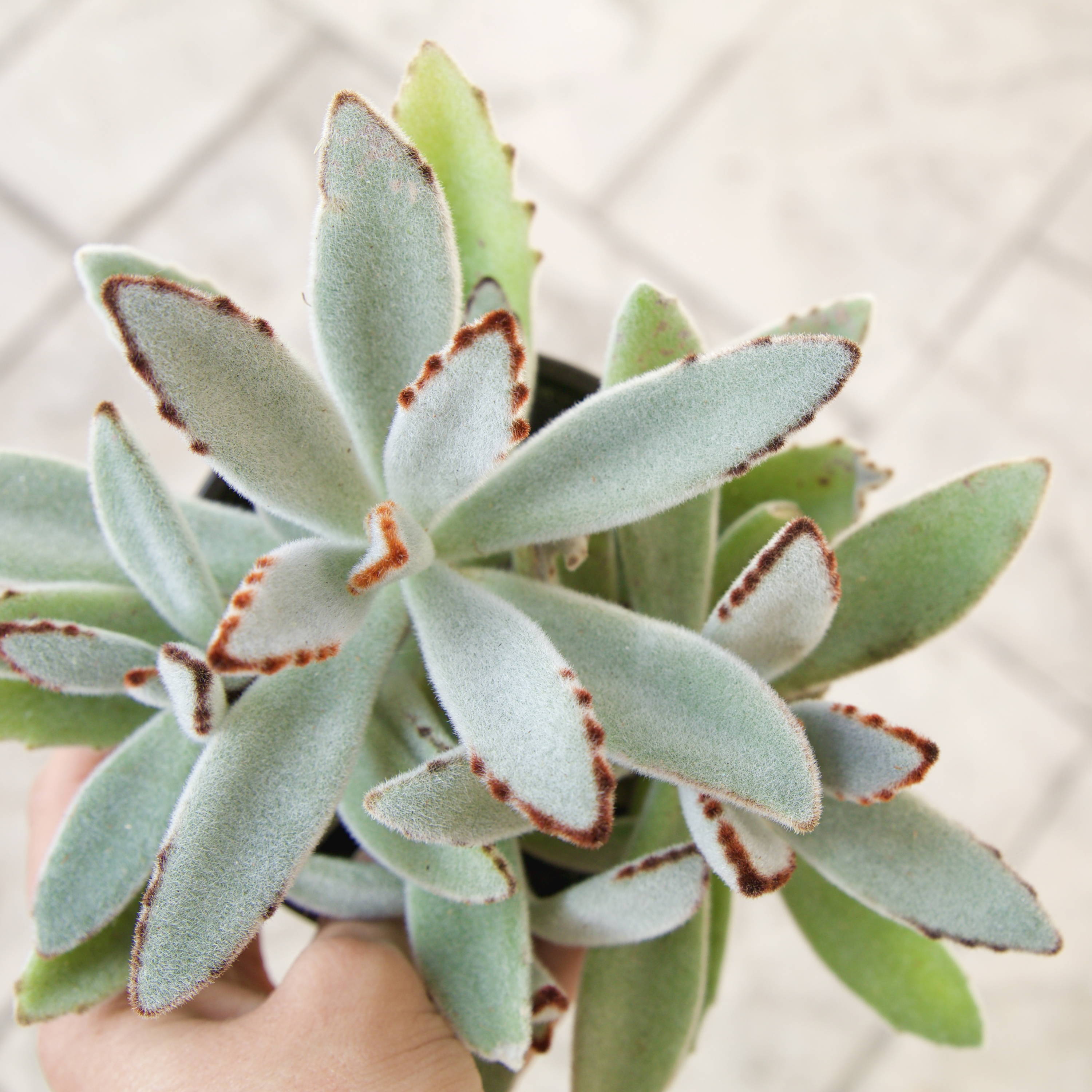 Using my thriller, filler, spiller method I picked out my Succulents
Thriller plants are the plants that become the focal point of your combination. The pretty-pretty plants that catch the eye and make the arrangement POP!!
Thriller plants:
Kalanchoe "Panda Plant"
Graptosedum "California Sunset"
Graptoveria "Bashful"
Pachyveria "Powder Puff"
Filler plants are plants that will fill in specific areas within the arrangement. For example, small gaps or areas that need some volume.
Filler plants:
Sedum "Burrito"
Sedum "Firestorm"
Portulacaria Afra "Rainbow Bush"
Kalanchoe Pumila "Flower Dust Plant"
Spiller plants are meant to spill out around the sides of the arrangement to add to the texturing and layers of the project. These are plants that add a lot of character around the edges.
Spiller plants:
Sedum "Raindrops" or "String of Tears"
Sedum "Burrito"
Sedum "Firestorm"
⭐ Picking out plants for your arrangements can be a bit over whelming (it is for me😉) but if you follow this simple rule it will one, take you a lot less time and two, give your creation balance and charm.
---
Step 2: After choosing my beautiful Succulents I filled the pocket of the wreath with moss. Lining it thick and making sure to leave enough space for my plants.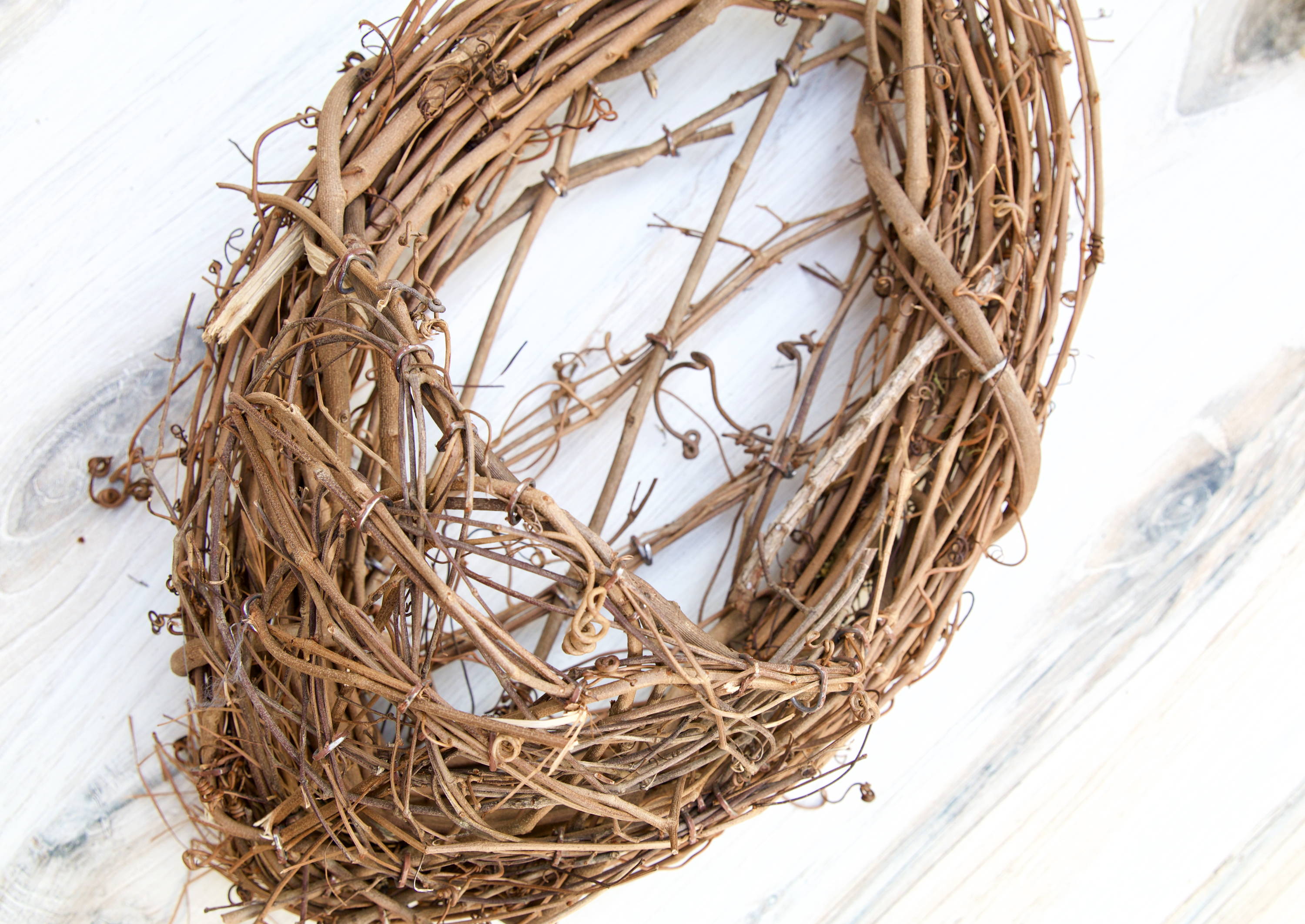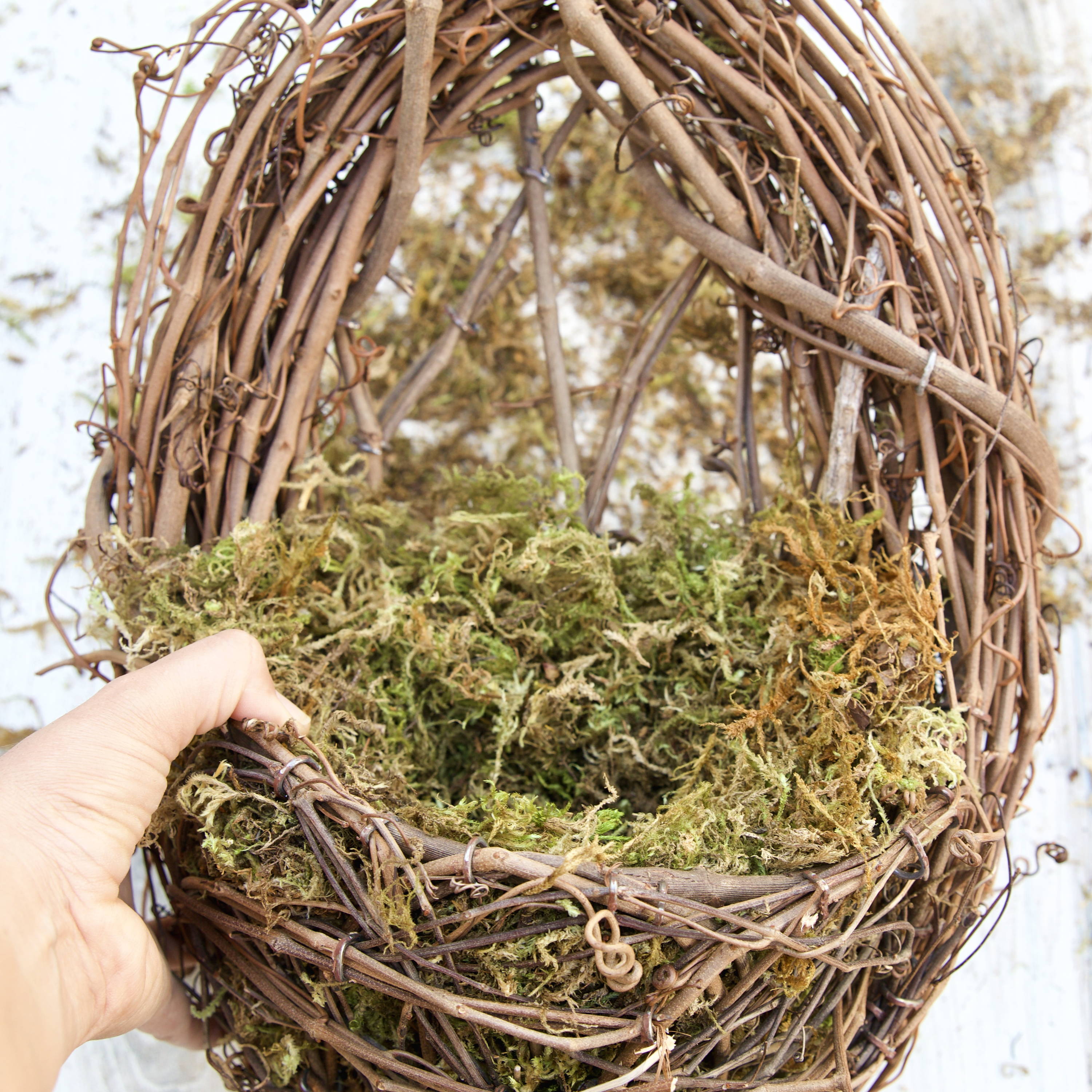 Step 3: My wreath now full and properly lined with a thick wall of moss. I twisted the wire from the owl on to the branch tightly and hid the ugly with moss, making it blend in with the wreath. I then glued part of the branch to the wreath so it could stay put.
This will jazz up my wreath and give it a unique touch. I have a thing for owls, I think their gorgeous animals and remind me of the woods. I LOVE the woods!!💚🌲💚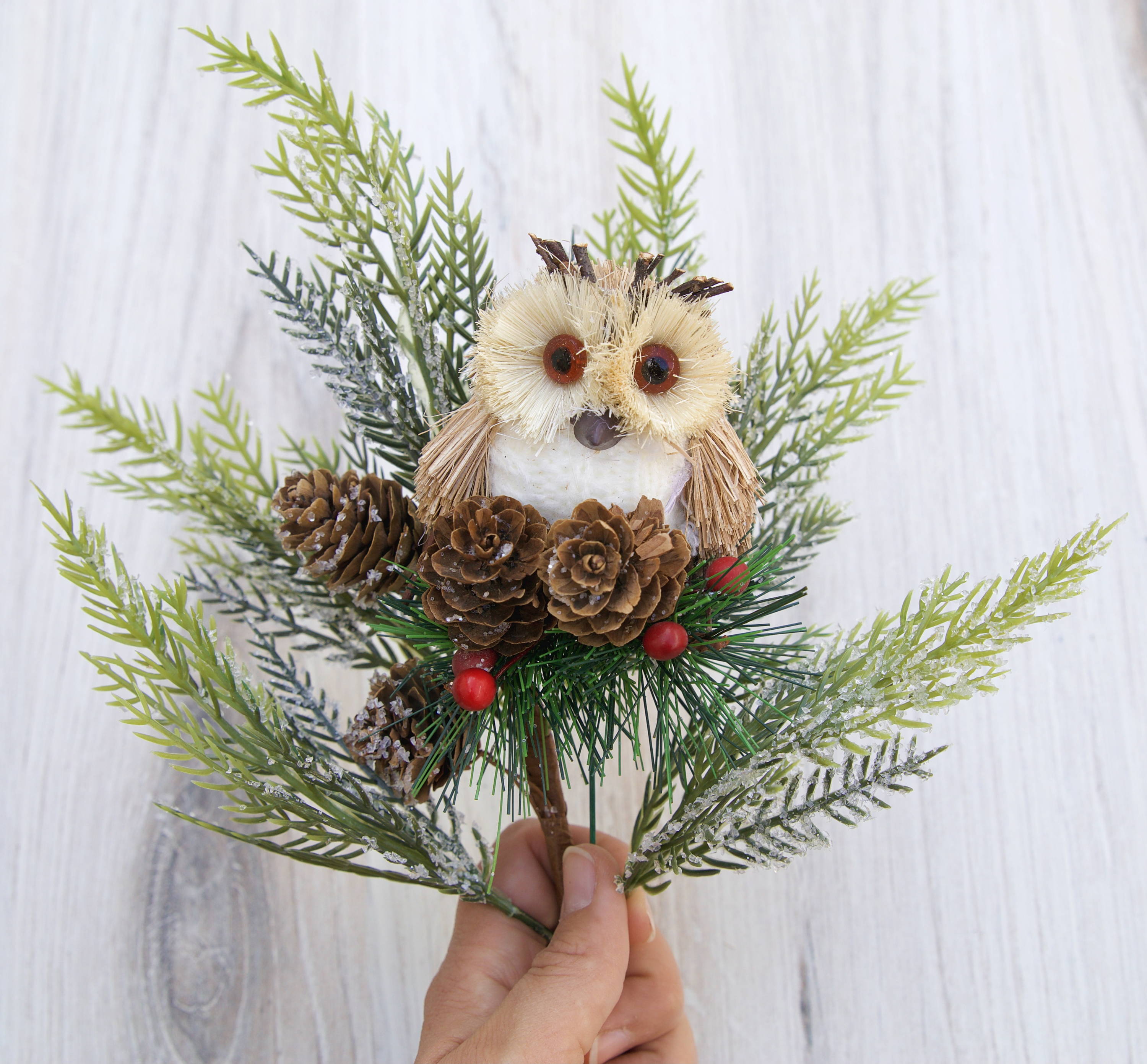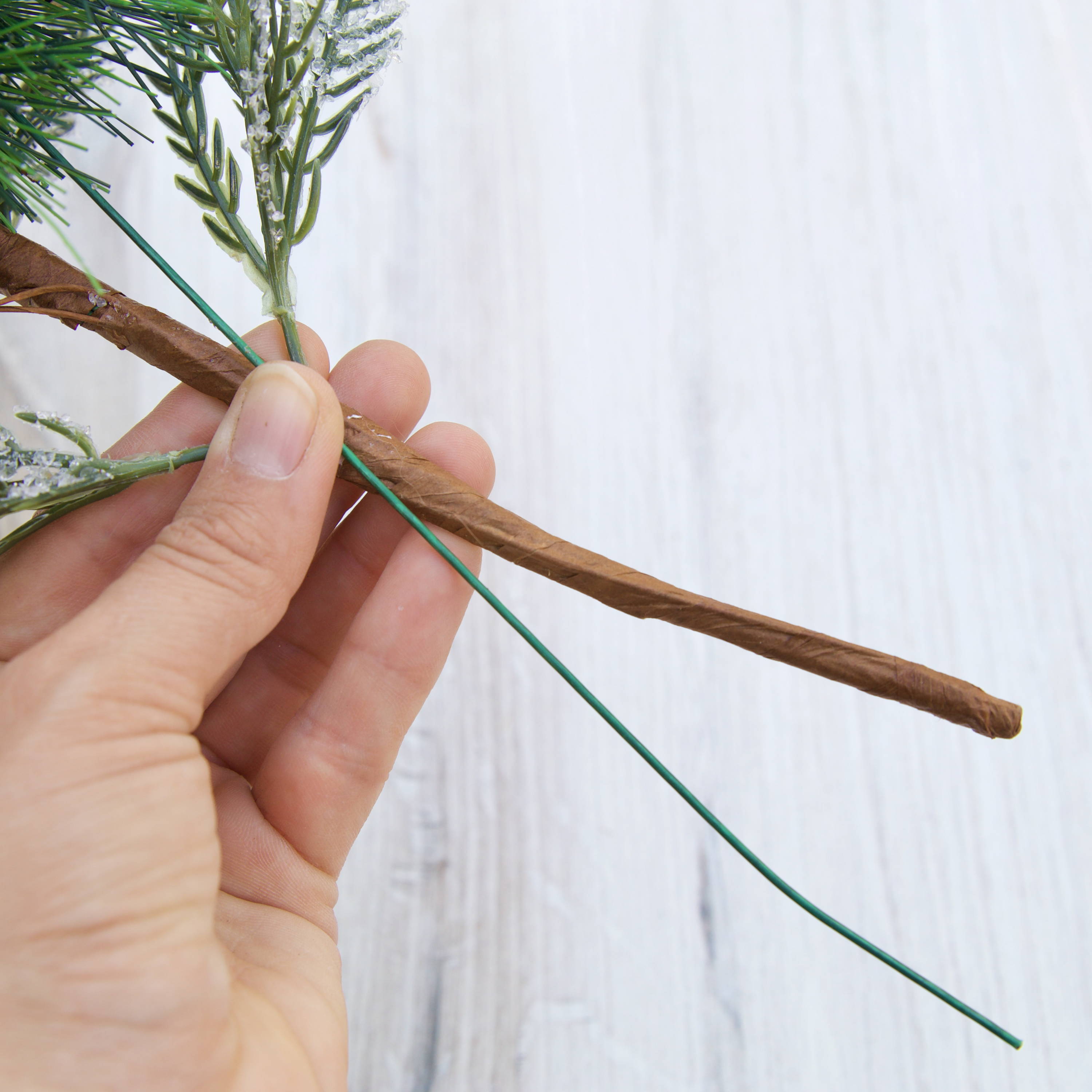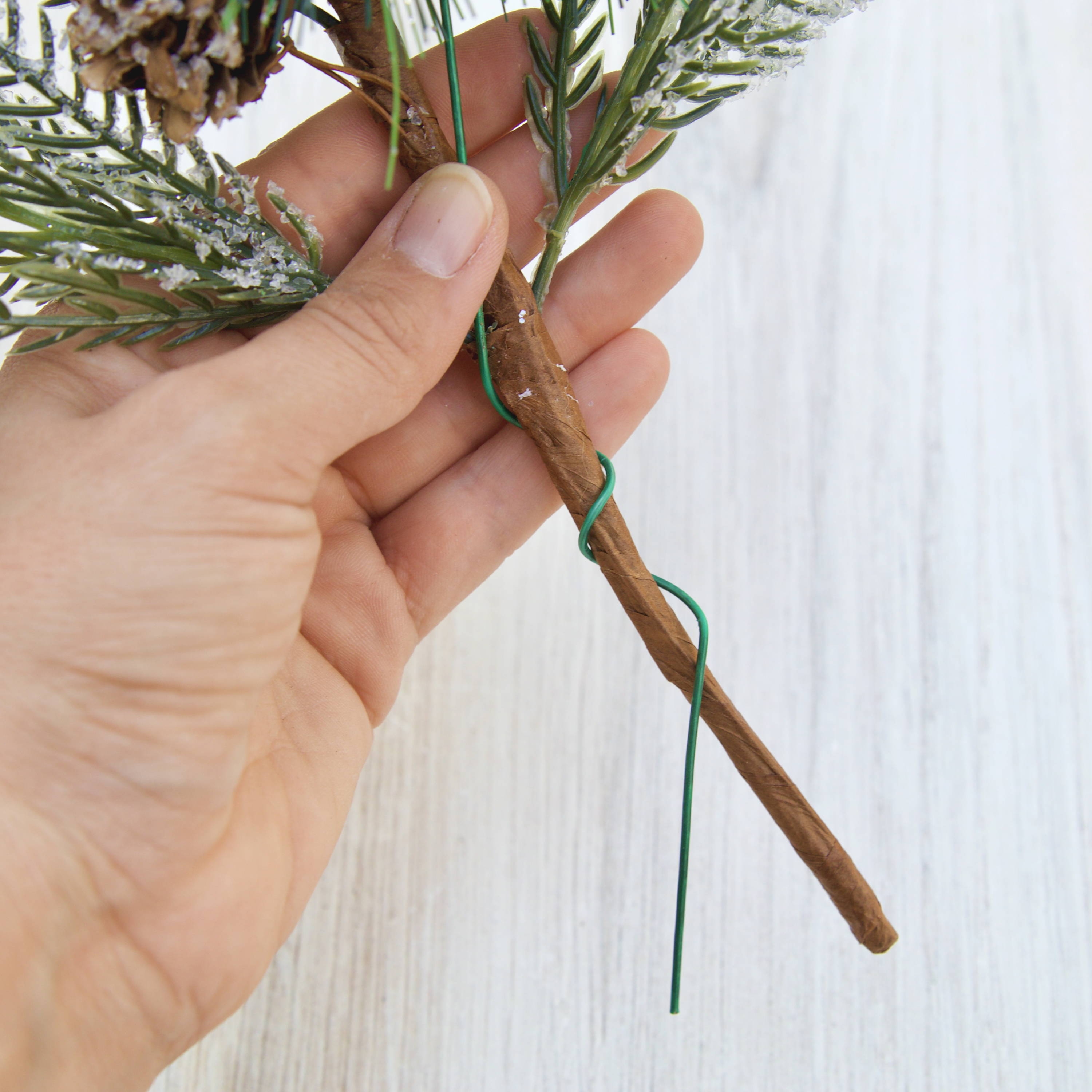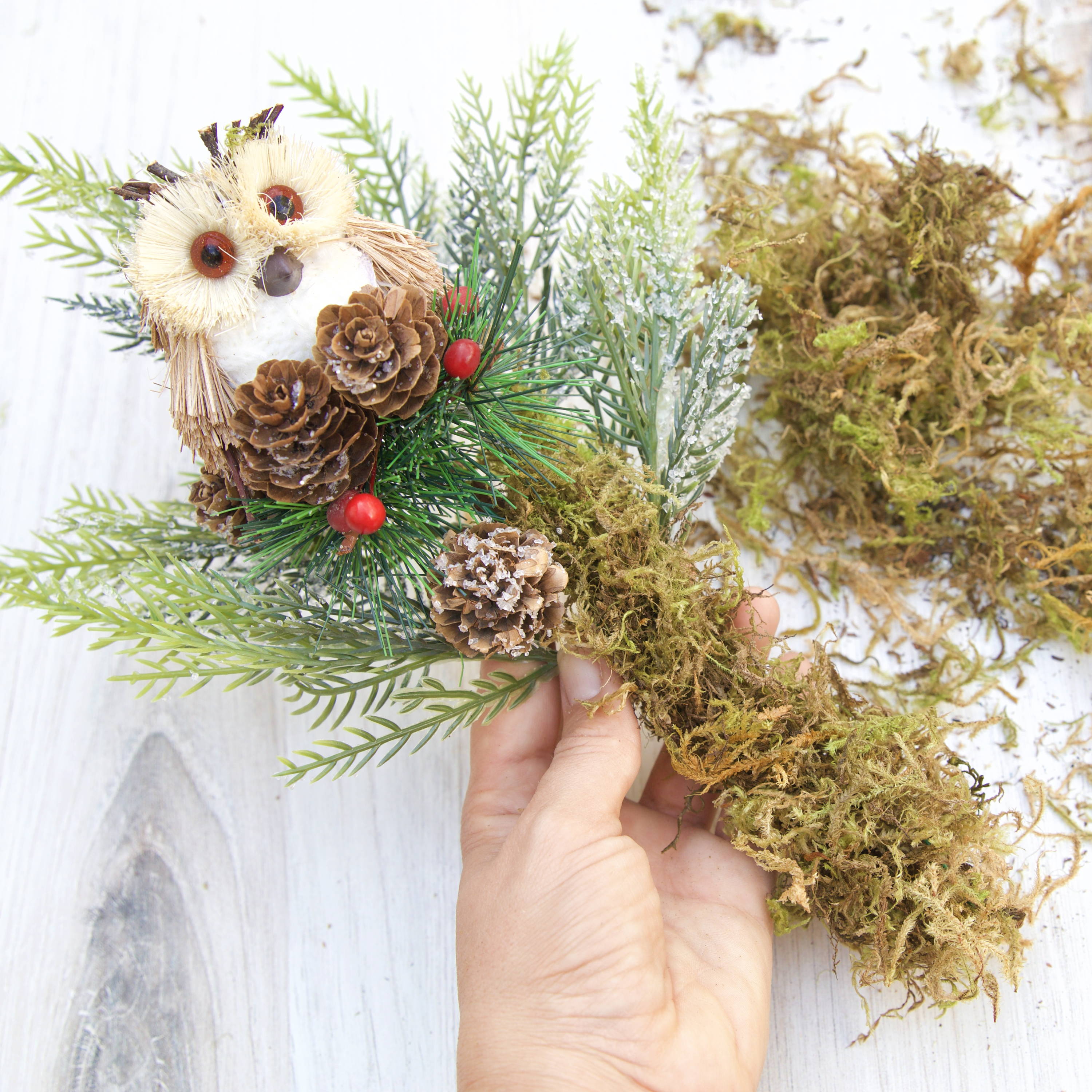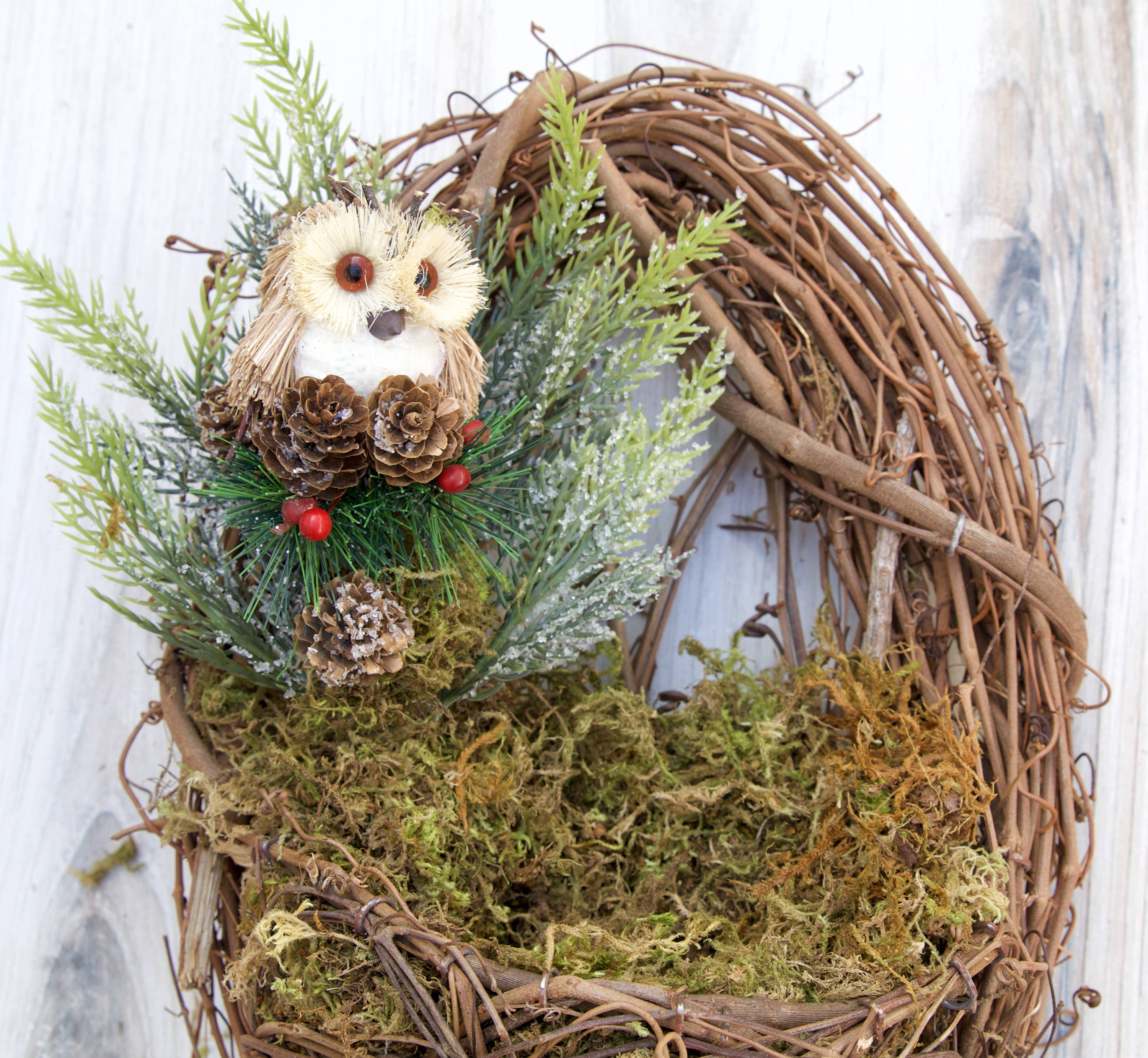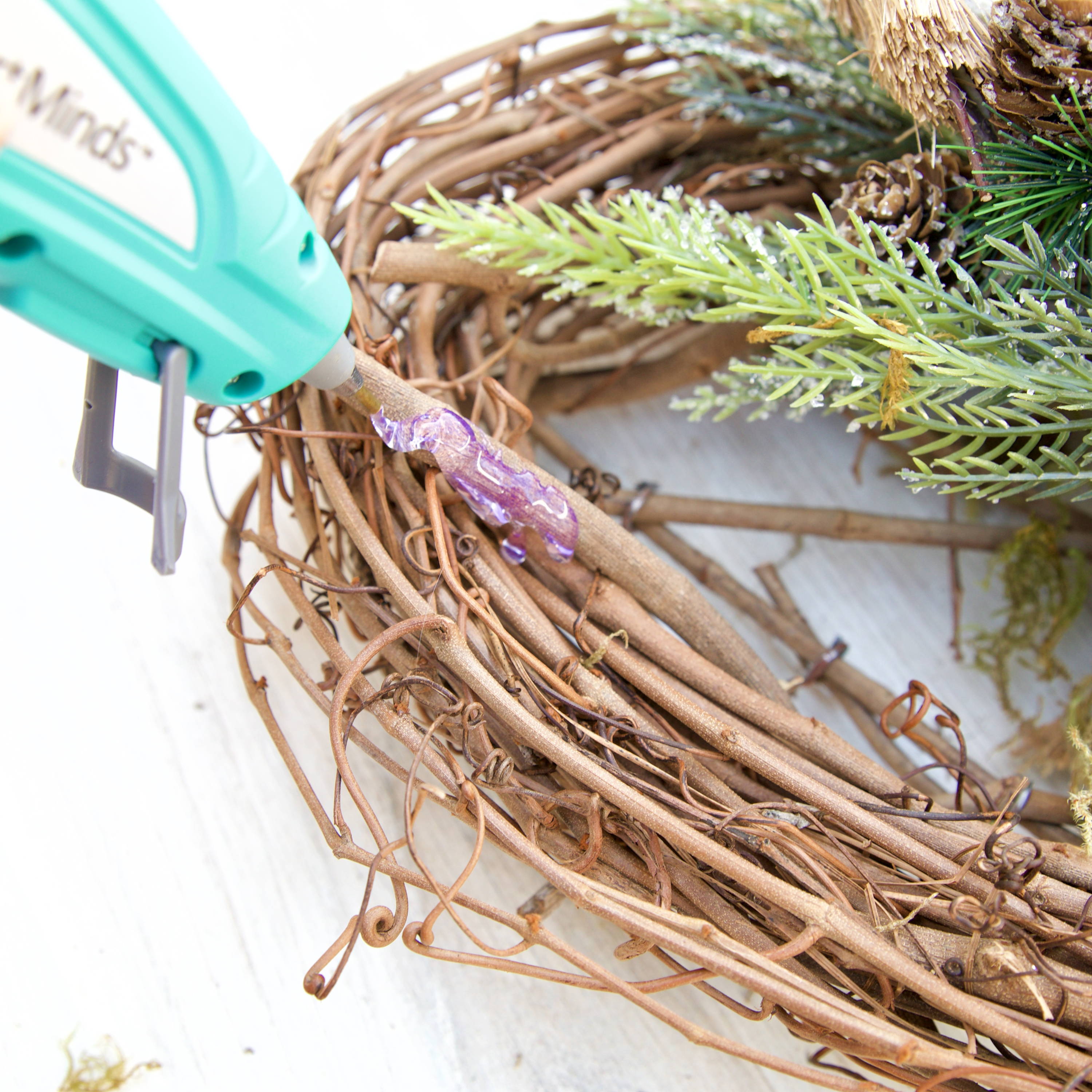 Step 4: After taking my plants out of their nursery pots I took a piece of moss and wrapped the root system/root-ball with it. Doing this to all of the plants before placing/planting them in their position.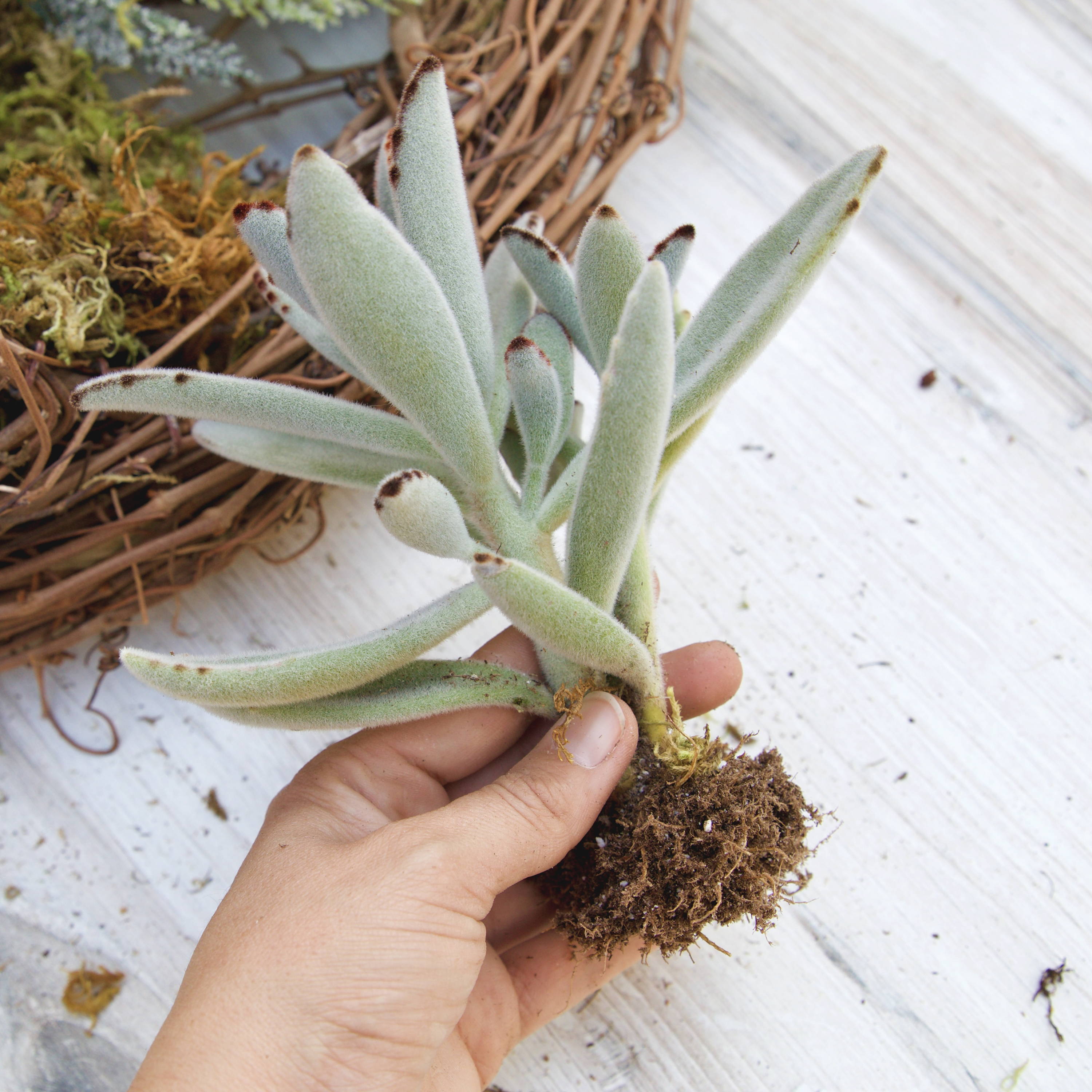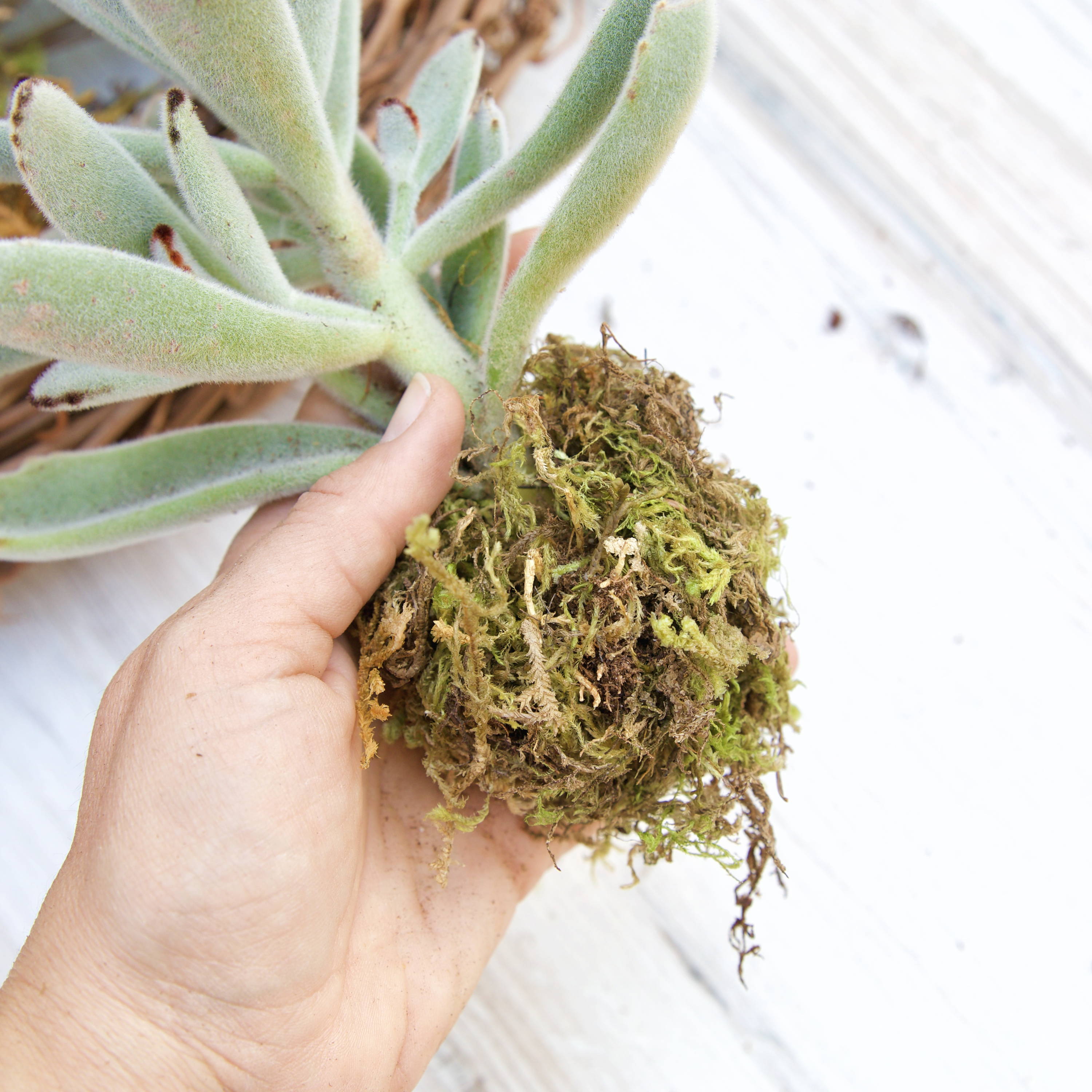 Planting:
Okay, so this is where the magic begins, putting together my Succulents in ways where they compliment and balance one another.
Part 1:
⭐Starting with Kalanchoe "Panda Plant" nestling it close to my owl.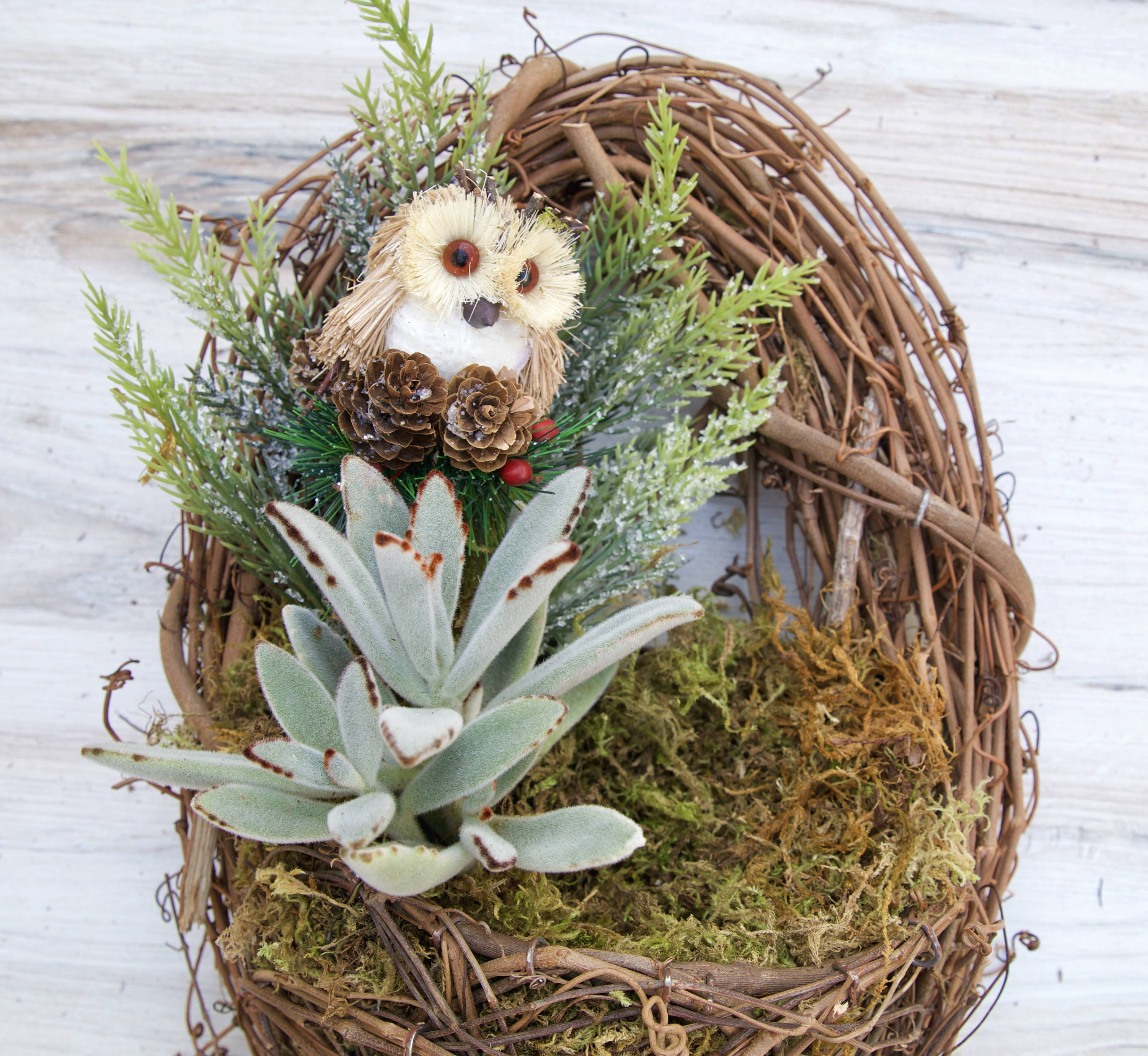 ⭐ I surround the Kalanchoe with Sedum "Burrito".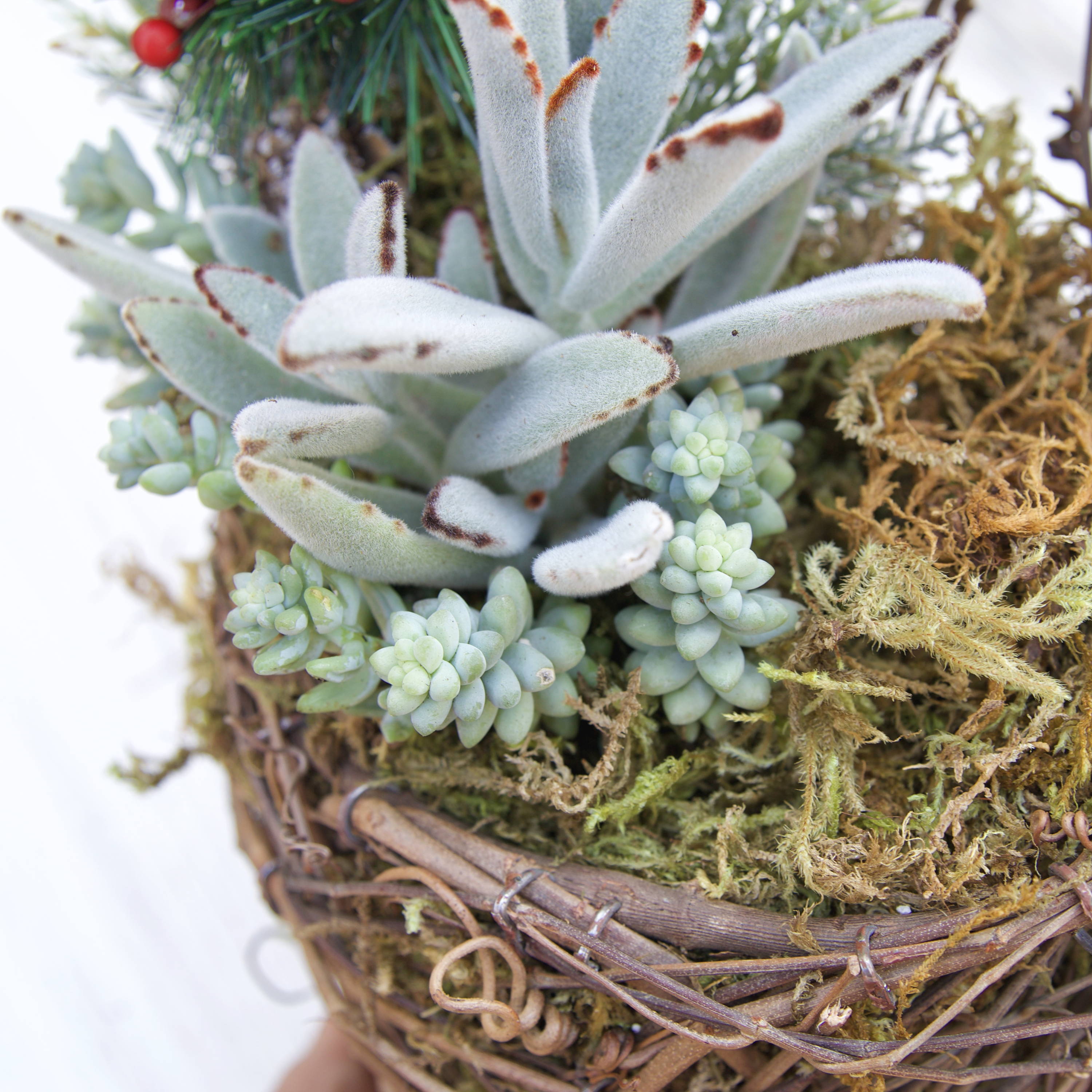 ⭐ At this point I needed to add some color to balance out all the green, the purple, Graptosedum did just that and paired well with the powdery Kalanchoe.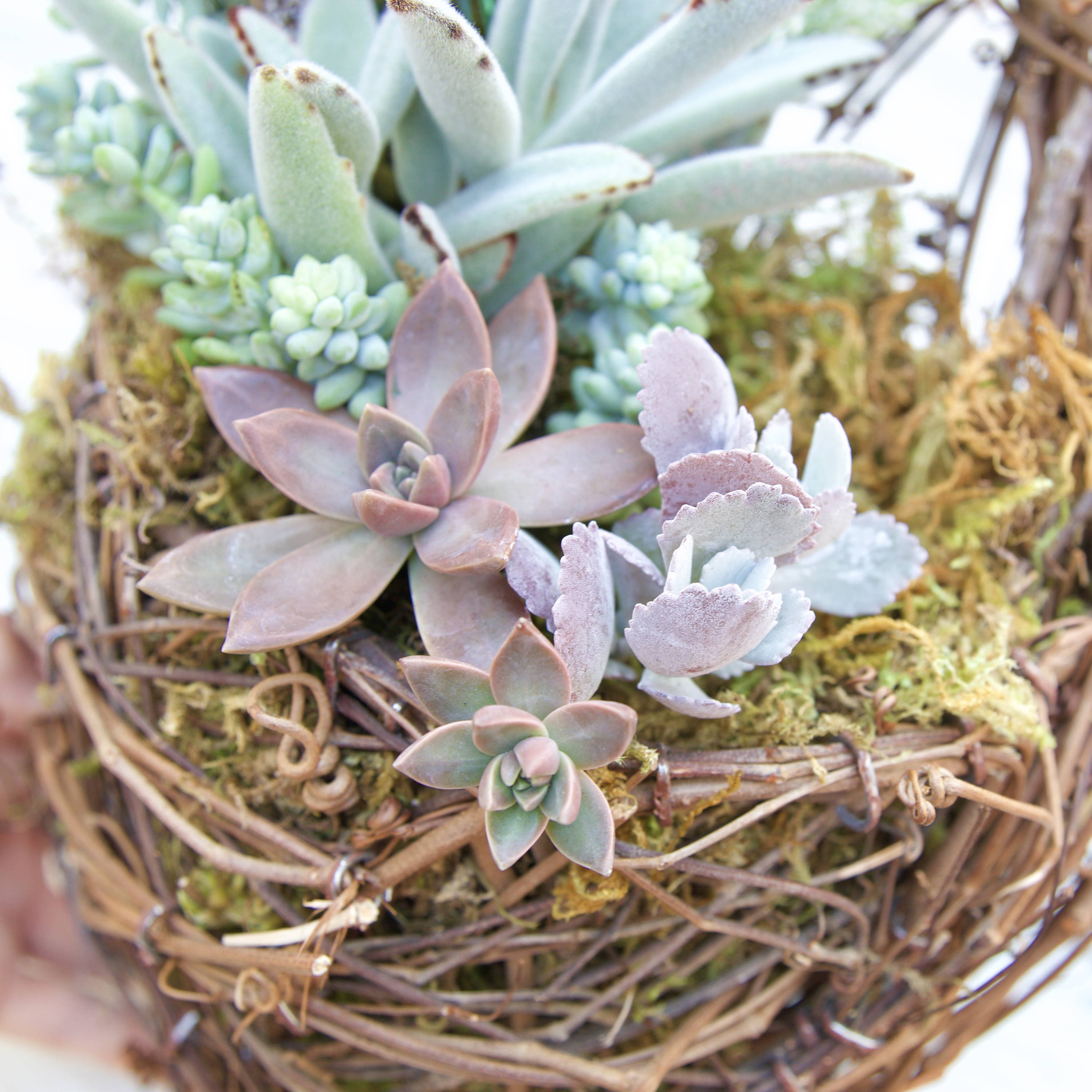 ⭐ I worked my way up with Sedum "Firestorm", notice the pop of color it added and a delicate rosette style Succulent, Pachyveria "Powder Puff" followed by my height element Portulacaria Afra.
Adding a vertical grower like I did gives dimension to your arrangements and I highly recommend you try it, always planting them towards the back to give them enough space to grow nice and tall.
⭐ Senecio "String of Tears" being the only true "spiller" in this arrangement was placed on the edge or rim of the pocket. Looking so beautiful cascading down and will become even more eye-catching as it grows longer. This gives my wreath a soft and dainty look.
Graptoveria "Bashful" is another rosette I added and complimented the Senecio so well wearing such a beautiful bright green hue with fleshy round leaves.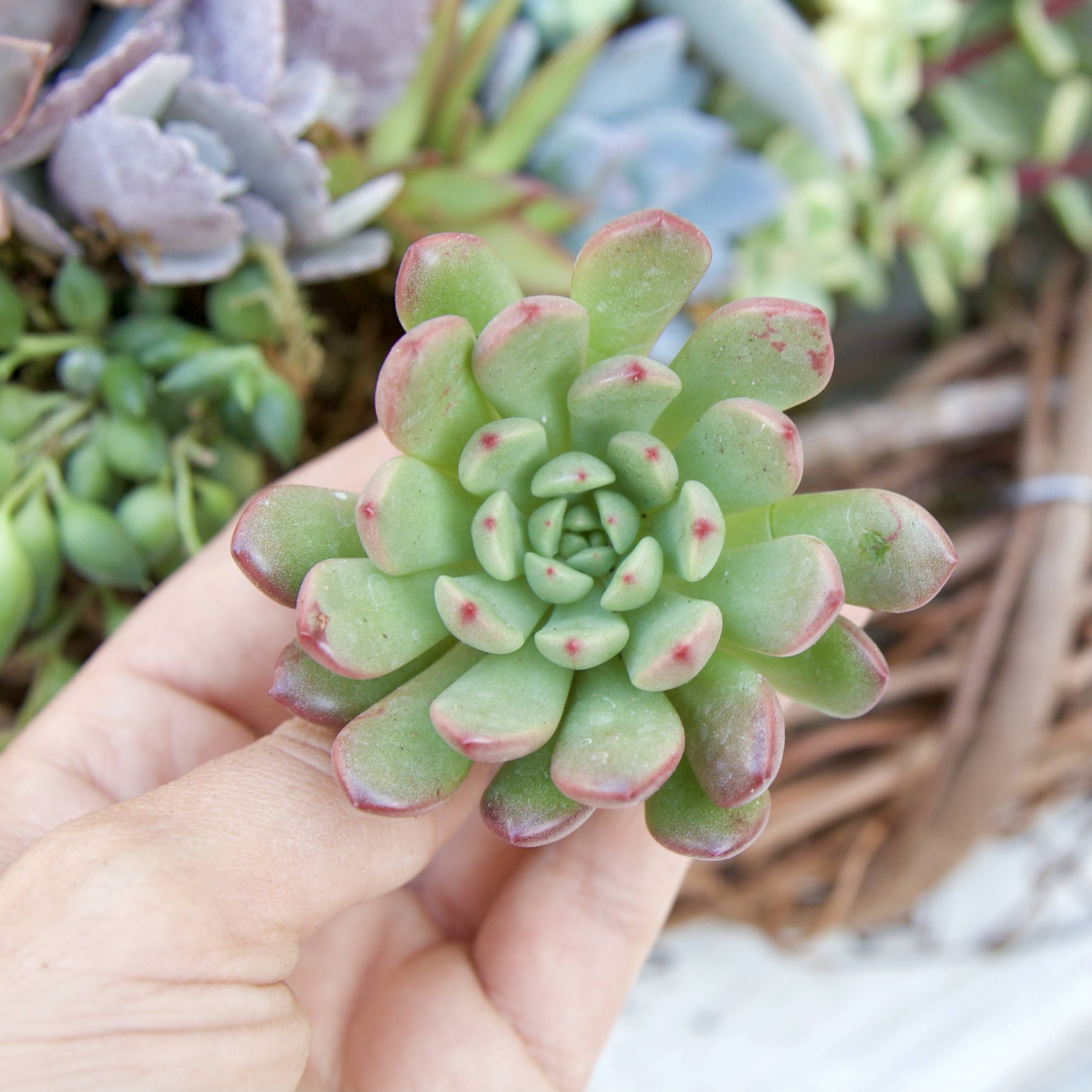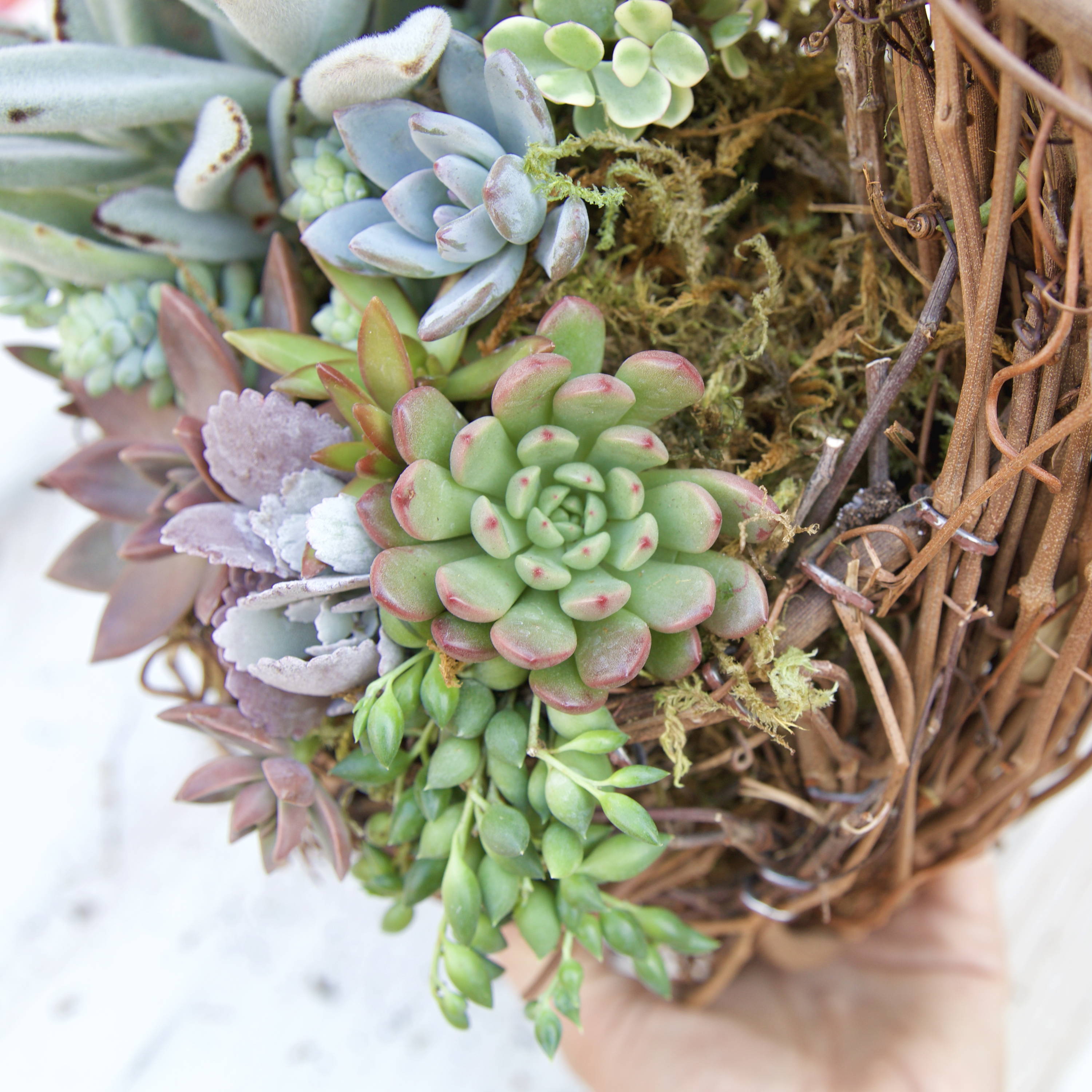 ⭐ I like to repeat my plants through out my arrangements, it's part of the balance I like to create and theres something about mixing and matching plants that just really tugs at my heart-strings!
I repeat my "Powder Puff" Portulacaria, "Firestorm" and "Flower Dust Plant" to bring it all together.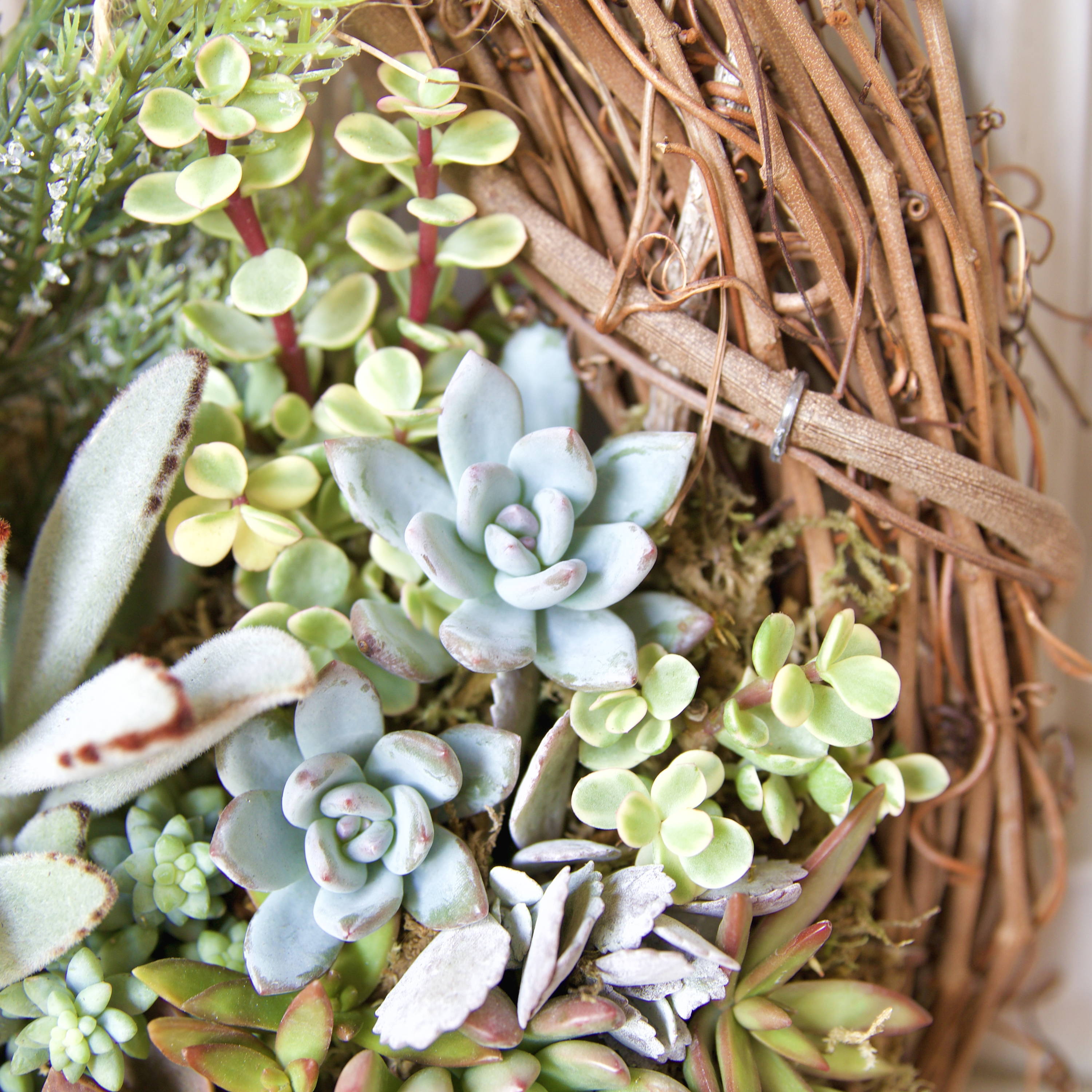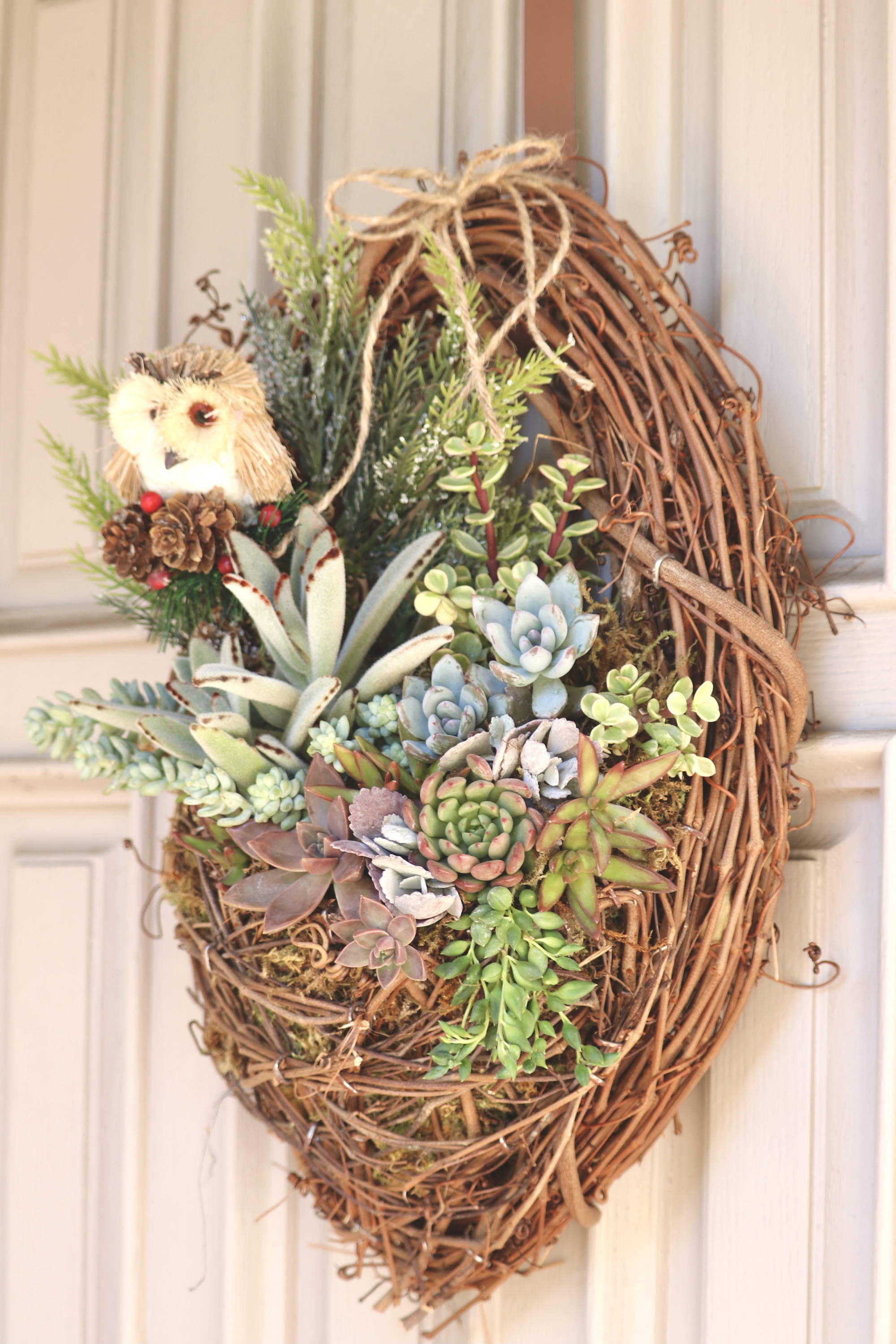 I will wait a few days for my plants to settle in before watering it.
I will give it a deep shower from my watering can and check on it ever four days for moisture,
avoiding my wreath from getting too dry. This might loosen the Succulents from their position and fall off. If this happens you can replant and secure it with floral pins.
The Succulents will take at least a month to root in and stabilize themselves into the moss.
I expect my wreath to live happily for at least 6 months.
Once I notice my succulents are getting too big or start to overcrowd I will take it apart and re-use my Succulents for another garden project.
That is the beauty of working with Succulents, they can be re-used over and over again!
---